So, WTF is MyMeta?!
MetaGame is sort of like LinkedIn, except not boring and nothing like LinkedIn.
MyMeta is your decentralized profile - to begin with.
Since what we're trying to do here is build a new world, it makes sense that one of the first things we build is a place for you to show who you are.
A place to display skills & traits, your past work & affiliations, your play style & maybe even your NFT gallery.
A place other people can use to get in contact or contract with you.
Of course, this is Web3; MyMeta isn't being built just for players of MetaGame.
MyMeta will be for anyone who wants a cool-looking decentralized profile page.
Here's what the current live version looks like:

Here's some design mockups with custom backgrounds: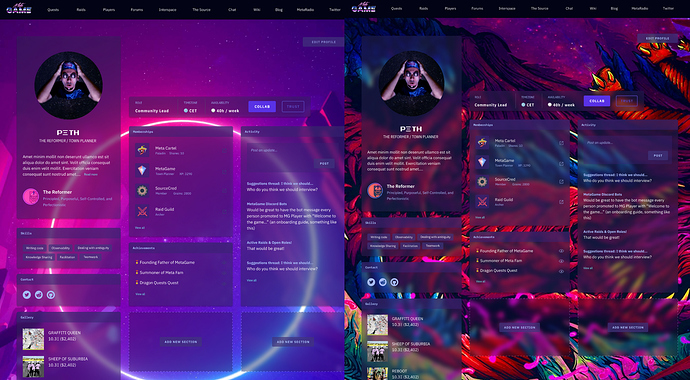 MyMeta design v0.99
Now onto what we want from it…
In the long run:
MyMeta shall be customizable as fuck in any way imaginable.
With those "add new section" blocks down under, MyMeta shall work equally well for an NFT artists, a blogger, a smart contract developer &… a DAO
The people shall be able to integrate smart contract interactions to use it as a dapp dashboard, a shop or w/e
To begin with:
What you see is what you get.
Next:
Finish up the profile creation flow & whatever is missing.
Make it all work for guilds.
Mostly using React, TypeScript & GraphQL (if you're a developer, come get some Seeds)
Proposal
Asking for $5k to continue seeding this.
We will use the funds to keep buying Seeds back from contributors & using them to provide liquidity to the Balancer pool.
With $5k, we can probably get >$20k worth of contributions and maybe more.
More? Yeah, so far only 1% of Seed holders actually wanted to sell their Seeds, so, in theory, that could be up to $500k lol. But you know, theories and reality…
Why
We see these profiles as the core infrastructure for metagame & the DAO ecosystem as a whole.
As mentioned above, these profiles aren't being built for ourselves, but any person or a DAO that needs a personal workfolio page or a members directory.