Description
StationX.network is a protocol that enables anyone to deploy & manage a DAO for any use case (Investments, Grants, Charity, NFT treasury, etc) in under 60 seconds.
Manifesto/Vision
There will exist millions of people structures on-chain for everything. Small & large people networks investing in opportunities, running different businesses/protocols, funding ideas, collecting assets together, lending/borrowing assets, selling different things & a lot more. DAOs' AUM was $13.8B in the last cycle, we expect to see $1T in DAOs' AUM as the next milestone.
Problem
To date, the majority of the communities manage their treasuries on a member's private wallet & take decisions on platforms like discord & telegram and keep track of transactions on spreadsheets. This leaves the members of such clubs exposed to risks like loss/theft of funds, no proper tracking, human error, etc. The tools that currently exist also do not give the flexibility to these communities to manage themselves the way they want, therefore making it difficult for them to onboard themselves on these platforms. A Grants DAO is different from Investment DAO, Charity DAO and so on. One template fits all, approach, fails here.
Solution
StationX is a protocol that enables anyone to start & manage decentralised permissionless pools/clubs/DAOs of any use-case in under 60 seconds.
Onboarding on the platform is fairly simple, on StationX onboarding page, create your station (use predefined templates for various use cases or create a custom template for themselves) that suits them the best, fill out club details (Name, Token Name, Investment Currency, fund size, Quorum, etc.) and with one button click, the club's contract is deployed.
Once in, invite users who would deposit funds in exchange for minted Club Tokens using a link. (They may also use a custom token/NFT of theirs for the DAO)
Any kind of community/collective (Investors, NFT Collectors, Grants programmes, Parties, etc) can easily manage their capital & assets using our platform.
Product
Our product gives users a no-code platform to create their DAO.
Once you connect your wallet, choose to enter the clubs you are already a part of or create a new club.
When creating a club, simply give your club a name & token symbol
Once done, select the template that works best for you or create one!
Set your governance & you're ready to go!
Link to onboarding & walkthrough video - Loom | Free Screen & Video Recording Software | Loom
Here's how the dashboard looks (this is currently on testnet, hence the $ values shown here are 0):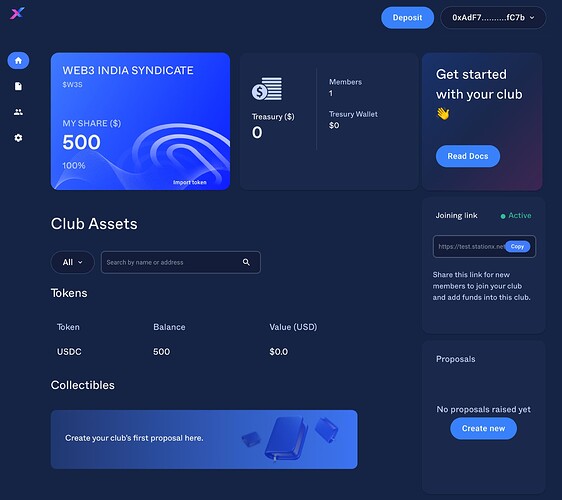 You can reach out to me if you'd like a demo!
Validation
We're currently in talks with multiple pools (fund sizes ranging from $100K - $10M) who are currently working with us to deploy their treasuries on our platform.
We've also received grants from Polygon & AAVE. We're in touch with Aave's team to build the Grants DAO template with them.
Progress
Our product went live on Rikeby testnet in the 2nd week of July.
The investment template is complete & we're working closely with communities to onboard them on the platform.
Deploying on Polygon mainnet in the coming weeks.
Differentiation
We are creating a platform which has multiple templates (pre-built & custom made) built for different use-cases that our competitors don't have. Every club/collective has a separate use case and needs a customised solution that our platform can offer.
Team
4 of us with CS backgrounds, ran a marketing & tech services company in India right after university from 2019 to 2021.

Rishav used to invest in crypto since 2017 (started with investing in top-tier ICOs through small pools & communities that had allocation with private investors). Invested in over 30 ICOs (including polygon, arweave, ankr, republic network, etc). Found out small communities came together to act as micro VCs, funds, and syndicates. One of the first use-cases of communities managing capital towards a common goal.
Subham has been building & shipping products since 2017. He has more than 1 year of experience in blockchain specifically. He built a SAAS company from ground-up in the past & managed a dev team size of more than 10 developers across different roles.
Pranav has more than 3 years of experience in product design, community & marketing. He started working with Web3 projects in mid-2021 and worked with over 10 projects to build their community strategy.
Toshit is a performance marketeer with more than 3 years of experience in marketing & operations, worked with web3 projects since mid-2021 to generate traction & helped them with getting investors & partners on board.
Grant Request $
$30,000
Funds
We're completely bootstrapped. Additionally, we've received grants worth $25,000 from Polygon & Aave. The funds will be used to hire resources to fast-track product development, marketing & business development.
Help
Support in shaping DAO templates & feedback on the product.
Additional Resources
Follow us on Twitter - https://twitter.com/stationxnetwork